Korg Poly 800 (Limited Edition)
There has been a new arrival in the MC Evillest Coven household this evening, and the hallways are resounding to the pitter-patter of tiny DCOs. The Kord Poly 800 is a (very underrated) 1984-vintage analog-digital hybrid, kind of a poor man's Juno, and now I've got one of the rare ones. You can see it below with my other new toy in the background.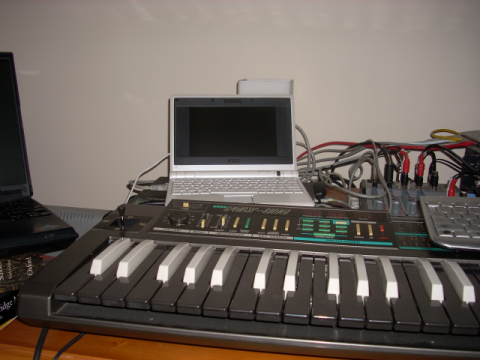 I have Plans for this machine, but for now I'm just enjoying the sounds - I've been at it for four hours and it is Fun.
sample 1
playing with the joystick
sample 2
A bit loud, overdriven upper register filter stabs
sample 3
Detuned sawtooth & lots of delay.
sample 4
Similar to the above but with 'clicky' envelope.
sample 5
Bass
sample 6
More bass using the 'hold' control.
All the above recorded into audacity through a Berhinger UB802 mixer and a JSH DX99 Digitec delay. I'm still figuring out the levels so there is some clipping.